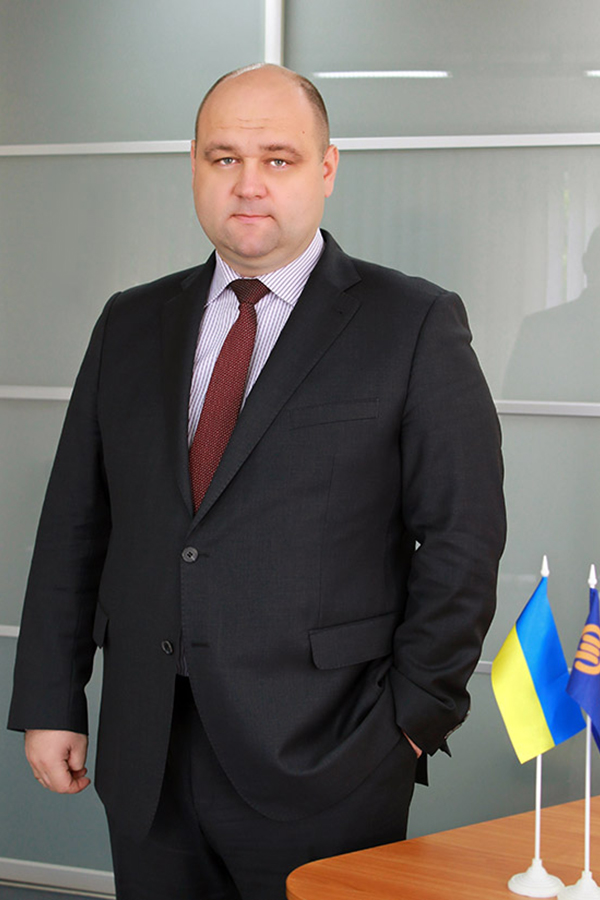 Dear customers, partners and colleagues!
Best greetings to you on behalf of Joint Stock Company «Khmelnytskoblenergo».
Company's primary activities is the distribution of electricity to the consumers of Khmelnytsky region, in the conditions of functioning of the single power system of Ukraine. Therefore we are realizing the improvement of production and technical base, reconstruction and construction of industrial facilities, electrical grids.
Our company has come  a large way of it's incipience by implementing an effective strategy of development and modern management techniques.
By realizing the chosen strategy, the Company pays particular attention to the relationship with consumers, considering them as it's main investors. Therefore, the slogan «Consumer is the highest value of the Company» is being constant Company's road map.
In order to maximize  fulfilling the needs of electricity consumers Company has established the network of service centers of the European level in all areas of the region, that will allow to  extend the range of services and improve their quality.
By choosing  the way of continuous improvement, being guided by the fundamental concepts of EFQM, we became the winners of the 9th International Quality Tournament of Central and Eastern Europe in the nomination of «Large Companies», received an award «Recognized for excellence - 5 stars», we develop and improve the Company's management system, that includes the quality management system according to ISO 9001:2015; management system of labour safety and  hygiene in accordance with GOST ISO 45001:2018 environmental management system in accordance with GOST ISO 14001:2015.
JSC «Khmelnitskoblenergo» is one of the few companies in the industry, which has the scientific and industrial base and, besides the traditional activities for power companies, under its own brand produces mobile and stationary laboratories for calibration of measuring current and voltage transformers, laboratories for energy audit of distribution grid, and other equipment and measuring devices.
Another trend in scientific and industrial laboratory activity is the development of a new calibration concept of current transformers and voltage transformers in their operation process.
I am grateful for the understanding and respect for power engineers work.
I wish you inspiration, success, peace and harmony, energy of light and life!
Best regards,
acting CEO Oleg Kozachuk
---
Oleg Kozachuk was born on July 18, 1980 in the city of Kazatin, in the Vinnytsia region of Ukraine. In 2002 he graduated from Vinnytsia National Technical University with a degree in electrical engineering with honors. Subsequently, he received a master's degree in public administration and administration from the L. Yuzkov Khmelnytsk University of Management and Law. He also graduated from the Vasyl Stus, Donetsk National University, majoring in Business Administration (MBA) with honors.
The beginning of Oleg Kozachuk's career is closely connected with Khmelnytskoblenergo. After graduating from high school, he worked as an inspector of energy sales of the Letichevsky district power grid. Later he became the head of the Letichevsky RES section. From May 2003, Oleg held the position of Head of Marketing and Energy Sales of Letichevsky RES of Khmelnytskoblenergo. Two years later, he headed the quality management department.
Between 2007 and 2010 Oleg was engaged in projects to optimize business processes in various companies in the energy and investment spheres of Ukraine, where he developed and implemented automated enterprise management systems, in particular ERP systems, and was engaged in management consulting.
From 2011 to 2014, European Development Technologies, which was founded by Mr. Kozachuk, was engaged in projects in the field of energy efficiency, energy saving, as well as the development and support of renewable energy generation.
In 2013-2015 Mr. Kozachuk was involved with public and expert activities in energy sector. The focus of his activities during this period is energy efficiency and renewables. Oleg headed the public organisation Association for Energy Efficiency and Energy Saving. Since 2014 Oleg has been the Chairman of the Public Council at the State Agency for Energy Efficiency and Energy Saving of Ukraine, a member of the Group "Resuscitation Reform Package", also known as "Reanimation Package of Reforms" (RPR).
In 2015, Kozachuk returned to work at Khmelnytskoblenergo, first as Deputy Director for Marketing and Sales of Khmelnytsky MREM, then as First Deputy General Director with a combined role of Director of Marketing and Energy Sales at the same time.
In March 2016, he was appointed Acting General Director of Khmelnytskoblenergo, as well as the voting Director of the Wholesale Electricity Market Council.
In 2020, thanks to his authority and experience in the energy market, Oleg was elected a member of the board of a public organisation uniting more than two thirds of the country's energy distribution companies, Smart Grids of Ukraine.
In partnership with Korean and American colleagues, he implemented two pilot Smart Grid projects in the Khmelnytsky region.
In 2018, by the Decree of the President of Ukraine, Mr. Kozachuk was awarded the title of "Honored Power Engineer of Ukraine".
Oleg is married and has a daughter. He is interested in biographical films (his favorite film, The Dark Ages, is about Winston Churchill), and reading management and teamwork literature in the fields of sociology and philosophy (such as Harari's Sapiens). Among hobbies, he enjoys playing table tennis.